Written by: Geodesy and Geomatics Engineering Students, Class of 2020
From 28 to 30 October 2022, we went to the Pramuka Island, in the Seribu Islands District, north of DKI Jakarta. We carried out a mandatory practical session for the GD3102 Hydrography I module. On the field, we had a pretty tight schedule for two days, consisting of seven modules that were conducted in shifts between 12 groups. The modules were: (1) Tidal observation, (2) Beach profiling, (3) Introduction to multibeam echosounder (MBES) and singlebeam echosounder (SBES) surveys, (4) Transfer of level, and (5) Sketching, which purpose was to encourage a holistic understanding of how each module would relate to each other.
We started our journey from ITB at dawn after we each had a COVID-19 swab test. Luckily, none of us were infected so we could all join the practical session!
Waiting turns for COVID-19 swab test
We were extremely tired from a week full of studying and working late night for completing assignments. However, we were tremendously excited for the field excursion! Especially throughout the journey from Ancol to Pramuka Island. The sea view was exhilirating!
Relaying bags from the boat to the basecamp
We went straight to work as soon as we set foot on the island. We relayed our luggage all the way from the boat to the basecamp. Afterwards, we had a morning briefing, where the event was officially opened by one of the lecturers. Not long after, we had our first meal prepared by the locals and it was delicious! Especially the mangoes prepared for dessert. After we were full, we started our first day of field work.
The excursion was conducted in two days, and was done in shifts. During our field work, we felt that every single module was very informative yet very exciting because we finally got to implement and execute all the knowledge we have learnt in class. Of all the interesting modules, three modules in particular were very memorable, which are the MBES survey, SBES survey, and tidal observation modules.
During both MBES and SBES modules, we sailed out to the sea to conduct a bathymetric survey using the aforementioned equipment.
A glimpes of the SBES survey module
While some of the students in our group observed the monitor during the survey, the others had a chance to steer the ship! We learnt that apparently, steering a ship was not an easy task at all! During the survey, steering was extremely heavy due to the waves, wind, and weather condition. One of the most memorable things to have happened during the sail was that many of our classmates got seasick and one almost threw up! It was a very funny, yet concerning sight to have witnessed. However, it has taught us that the sea was not one to be underestimated.
Another module that was memorable for us was the tidal observation.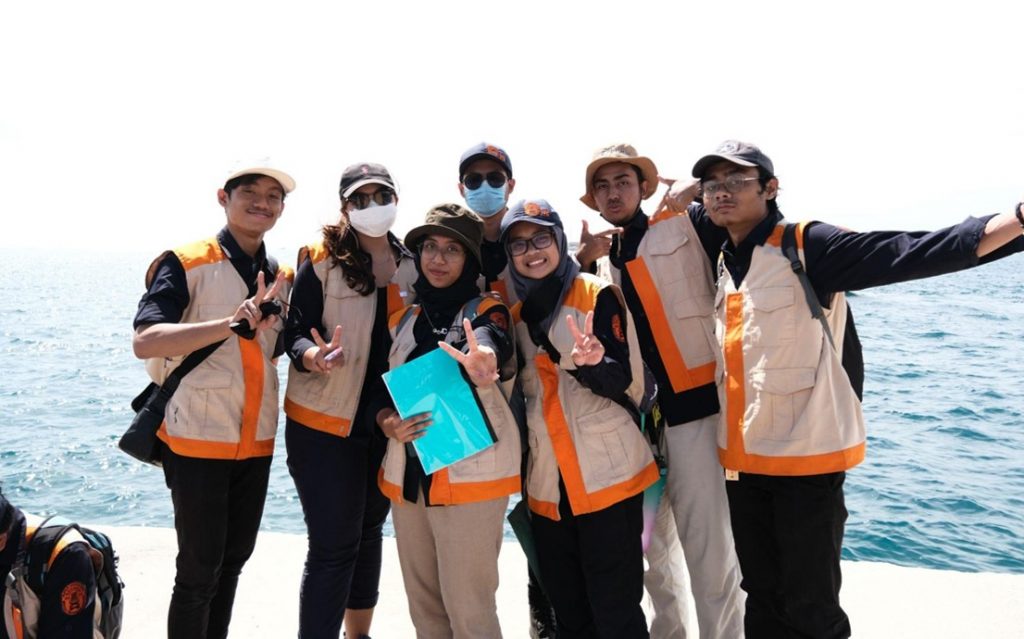 Group photo during tidal observation
We observed the water level for a total of 25 hours straight, which were carried out in shifts between groups every hour. Although we were not doing much during this module, we felt that the tidal observation module was one of the most memorable ones as during the leisure time, we got to talk and bond with each other even more. One of the groups even discovered a manta fish during their late-night tidal observation shift!
On our last night, we were asked to prepare a performance to close off our wonderful event. It was unforgettable, as we got to watch various performances, such as magic tricks, and we got to sing together all night while enjoying the salty ocean air. One of our lecturers even took part on the event!
Performance by one of our classmates…. and lecturer!
Even though we had a lot of modules to learn during the practical session, it was such an enjoyable and remarkable experience, as we managed to do every single module directly at sea through hands-on experience. We got to learn a lot of new things, not only in theory, but also in hard skills. We also obtained a better understanding of what it is like to do a hydrography related field work. Overall, great experience!